Bisnis, MIAMI - Ciputra Group Managing Director, Budiarsa Sastrawinata, has been appointed as the FIABCI World President for the term 2023-2024. The announcement was made during the 73rd FIABCI World Real Estate Congress held in Miami, Florida, United States from June 5 to 9, 2023.
FIABCI, also known as the International Real Estate Federation is a Non-Governmental Organization founded in 1951. It brings together real estate stakeholders from around the world, including brokers, property managers, developers, lawyers, insurance providers, architects, and urban planners. 
With representation from 72 countries, FIABCI serves as a business networking organization for over 40 real estate professionals. Indonesia is among the countries participating in FIABCI. FIABCI covers a wide range of properties, including residential, industrial, retail, hospitality, and rural real estate.
Indonesian property stakeholders' involvement in FIABCI was initiated by real estate mogul Ciputra through the Association of Real Estate Companies Indonesia (REI). Ciputra, the founder of Ciputra Group, became the first Indonesian national to serve as the FIABCI World President from 1989 to 1990.
Budiarsa is the third Indonesian to hold the position of FIABCI World President. Ferry Sonneville served from 1995 to 1996. Budiarsa will succeed Susan Greenfield, the incumbent World President for 2022-2023.
Budiarsa stated, "FIABCI has a unique selection process, starting from Vice President, then one year as World President Elect from 2022 to 2023, and finally the appointment as the FIABCI World President for the term 2023-2024. This required me to intern for one year," as quoted by Bisnis on Wednesday, June 7, 2023.
As the FIABCI World President, Budiarsa will focus on promoting cooperation with international institutions such as the World Bank and UN-Habitat. These partnerships aim to strengthen Indonesia's property sector.
FIABCI is currently a strategic partner of the United Nations and forms part of the Economic and Social Council (ECOSOC).
Budiarsa highlighted the importance of affordable housing, stating that it is a universal concern and not limited to Indonesia or UN-Habitat. He expressed his intention to enhance the partnership with UN-Habitat for the benefit of Indonesia.
INVESTMENT POTENTIAL
According to Budiarsa, Indonesia offers significant investment potential. The country has untapped opportunities for positive economic activities, particularly in Asia and ASEAN. With his FIABCI presidency, Budiarsa aims to foster international collaborations and create business opportunities among FIABCI members.
International collaboration will not only provide business opportunities for foreign investors but also open doors for Indonesian property stakeholders to gain valuable experiences in other countries.
"Asia has the highest economic activity, and within ASEAN, Indonesia possesses great economic potential. I will extend this to the wider world, as it was part of my program in the previous election to improve the activities of our direct members and national chapters. By strengthening collaborative relationships, we can enhance the quality of our members. This also presents an opportunity for Indonesia's industrial properties to continue growing internationally," Budiarsa stated.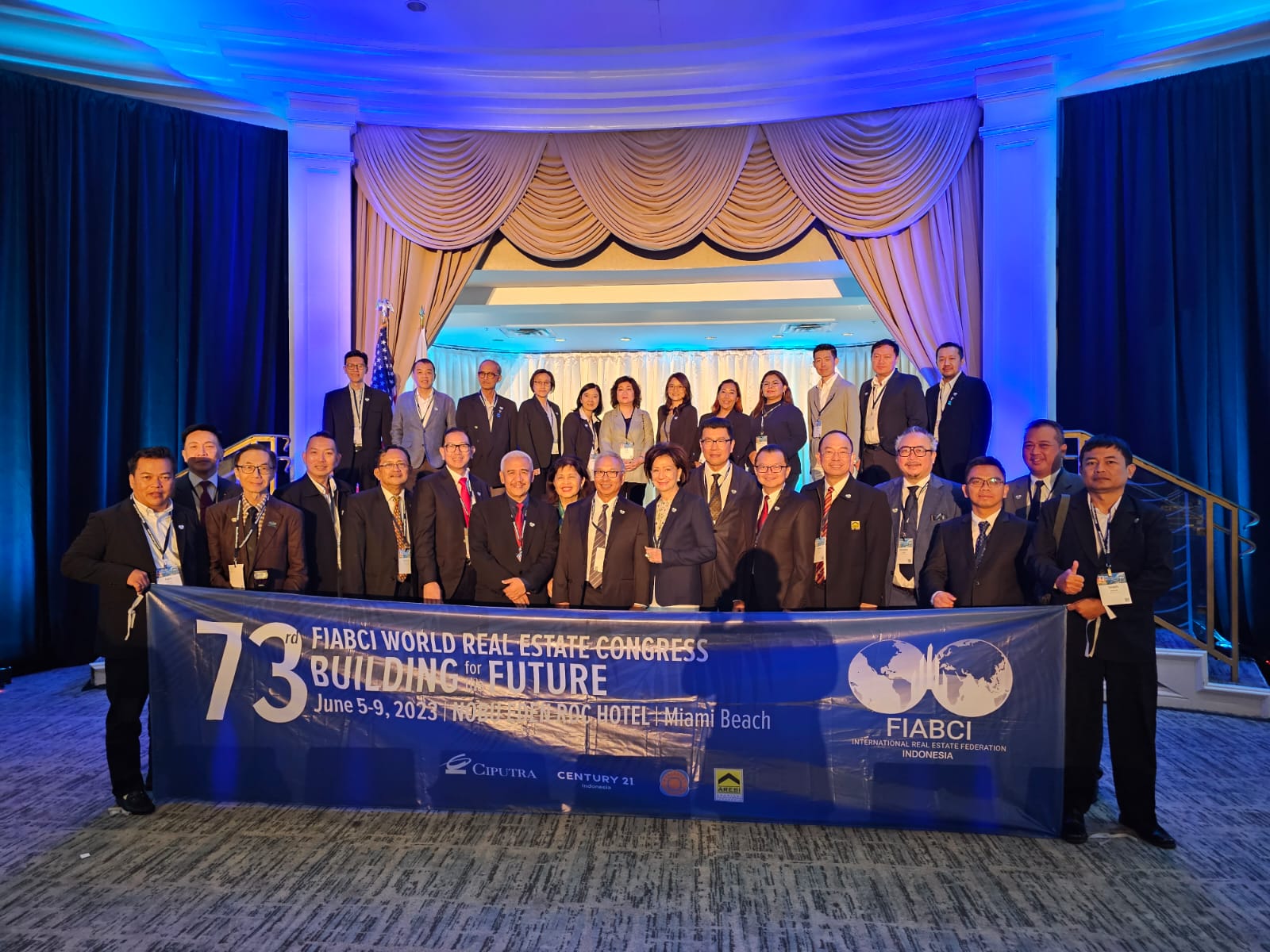 Ciputra Group Managing Director Budiarsa Sastrawinata (center) as well as the FIABCI World President 2023-2024 takes a picture with the Indonesian delegation in the 73rd FIABCI World Real Estate Congress in Miami, Florida./Bisnis/doc: REI-Ciputra.
Apart from Budiarsa Sastrawinata as the World President, two other Indonesian real estate stakeholders hold positions on the FIABCI Board of Directors. Soelaeman Soemawinata serves as an Elected Board Member, while Rusmin Lawin is the President of the Asia-Pacific Region.
The 73rd FIABCI World Real Estate Congress, preceding the appointment of the new World President, featured various events, including the Prix d'Excellence Awards, also known as the "Oscars of Real Estate."
Over 500 individuals, including property business owners, CEOs, and professionals, attended the congress. Among them were several Indonesian corporate executives and representatives from REI.
In her welcome speech, the 2022-2023 World President, Susan Greenfield, emphasized the growing importance of FIABCI as an organization and its expanding partnerships with institutions, including the United Nations. She expressed her belief that FIABCI will play a crucial role in shaping the future of the global real estate industry.